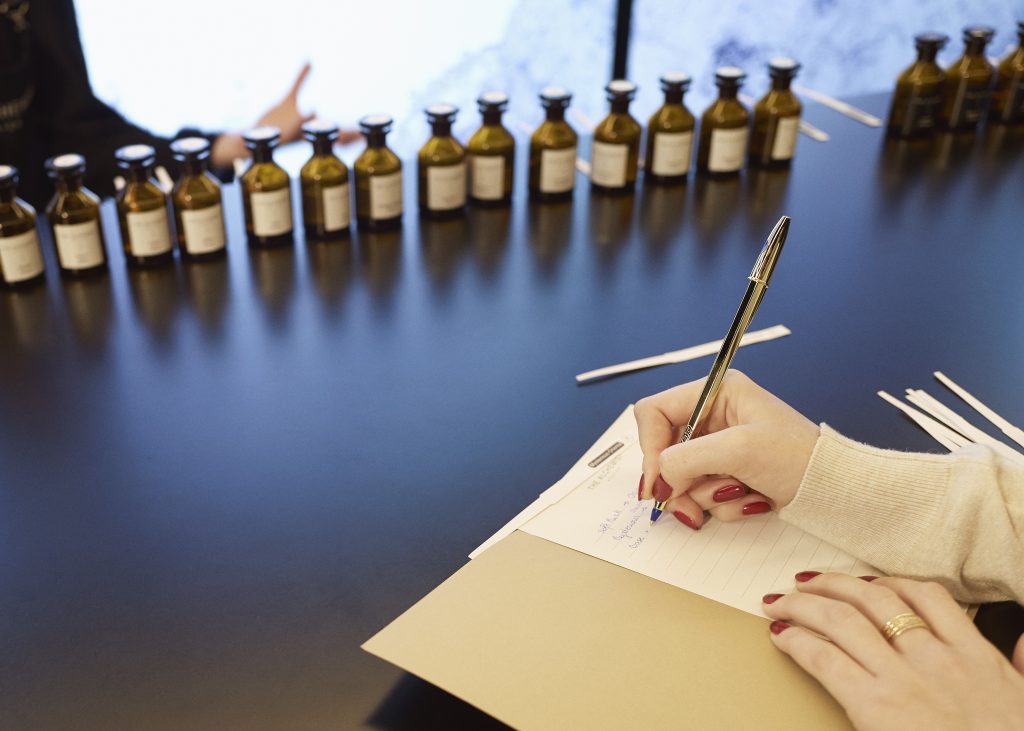 OLFACTORY CONSUNTANCY
Perfumes, emotions...
and much more

AROMACOLOGY uses scents and their influence on the limbic system to balance our emotions and moods and improve general well-being.
It is the study of on how odors influence human behavior.
The AROMACOLOGY consultancy consists in creating a personalized olfactory blend of essential oils, based on the analysis of a specific problem or the need for a particular situation. This blend can be put in a home diffuser, in an olfactory stick or in a perfume oil.
AROMACOLOGY VS AROMATHERAPY
Both sciences mainly use essential oils as a healing tool. The plant world (citrus fruits, flowers, woods, leaves, resins, roots, rhizomes) represents an endless source for aromatherapists and aromachologists. In Aromatherapy only essential oils obtained by Cold Pressing, by Continuous Steam Stripping and by CO2 extraction (or Supercritical Carbon Dioxide extraction) are used.
In Aromachology the palette is wider, as Absolutes and Resinoids (extracted with volatile solvents) and natural Isolates (single odour molecules that are extracted from natural raw materials using distillation techniques) are also used. We are here, closer to the world of perfumes. Aromatherapy works on several levels: physical – psychic – spiritual. Aromachology acts on a psycho-emotional level. Aromatherapy has different ways of application: ingestion, topical and diffusion or inhalation. Aromachology uses only the sense of smell, therefore inhalation and diffusion.

Dig yourself in a unique olfactory-creative experience, which will lead you to the formulation of your bespoke perfume.
Do you want to be the nose of your custom-made fragrance?
Be guided by your emotions and your memories and rely on your sense of smell. You will discover how fascinating it is to be conducted by your nose in the composition of your fragrance.
I will accompany you in choosing the Bases and Accords that will compose your exclusive Eau de Parfum.
Visit the CREATE YOUR PERFUME session for full details.

Nowadays marketing moves on experiences engaging the customer's senses. Communication must be made of stimuli to perdure and reach deep, this is how pleasant memories are created.
SMELL, a complex sense, indispensable and yet still little-known, triggers an immediate emotional response and creates an olfactory memory that is much more persistent than visual or auditory one. Creating an olfactory logo for your brand, business or event has several advantages, certainly aimed for creating value and memory, but also for communicating who we are.
My goal is to guide you in the formulation or choice of a fragrance that disclose the idea or message you want to communicate and that will be your olfactory signature.
I will also help you in choosing the type of product (reed diffuser, candle, room or fabric spray ) and packaging, finding the best tailor-made and high quality solutions.
In this way you will have your "turnkey" product.
Let yourself be guided by your sense of smell...